The three-phase slip ring motor is a wound three-phase asynchronous motor. The power class, installation size and electrical performance of this type of motor are in compliance with relevant IEC standards. The basic installation method of the motor is the horizontal bottom angle (IMB3), the working system is the continuous working system (S1), and the wound rotor is made of Class F insulation material.
The bearings of the three-phase slip ring motor are in the form of rolling bearings and sliding bearings, depending on the power and speed of the motor. The rated frequency of the motor's power supply is 50Hz, the rated voltage is 6000V/10000V, and the basic type of protection is IP54. The motor slip ring housing can be protected to IP22 or IP23. Other voltage, frequency and degree of protection motors are also available upon request.
High-voltage three-phase slip ring motors can be used to drive a variety of different machinery, such as compressors, pumps, crushers, cutting machine tools, transportation machinery and other mechanical equipment, in the mining, machinery industry, petrochemical industry, power plants, etc. Used as a prime mover in a mining and mining enterprise. The motor used to drive the blower, coal mill, rolling mill and winch should indicate the purpose and technical requirements when ordering, and adopt special design to ensure reliable operation.

Center height range: H355 ~ 710mm




Power range: 185kW ~ 5000kW




Number of poles: 2/4/6/8/10/12




Rated voltage: 3000V/3300V/6000V/6600V/10000V/11000V




Rated frequency: 50HZ/60HZ




Protection level: IP54 or IP55




Insulation class: F




Work system: S1 (continuous)




Cooling method: IC611/IC616




Installation form: IMB3




Motor connection: Y (three outlet terminals in the junction box, the junction box from the extension of the spindle is located on the right side of the base)




Altitude: no more than 1000m




This type of motor is suitable for use in environments where the ambient air temperature does not exceed 40 ° C and there is no serious dust, the minimum ambient air temperature is -15 ° C, and there is no corrosive and explosive gas in the air (which can also be made into a damp heat or high-altitude motor).


Comparison of different series High Voltage motors



No.

Squirrel-cage motor

Y JS

YKK

YKS

Y2, Y3

Slip ring motor

YR JR JR2

YRKK

YRKS

YR2, YR3

1

Structure

Box-type construction, made up of steel plates welded with each other

Compact struction

2

Cooling method

IC01 or (IC11, IC21, IC31)

IC611 or IC616

IC81W

IC411

3

Natural ventilation, with top mounted protection cover

With top mounted air-air cooler

With top mounted air-water cooler

4

Protection type

IP23

IP44 or IP54

IP44 or IP54

IP54

5

Insulation

F

6

Mounting arrangement

IMB3

7

Voltage available

380 v, 2400 v, 3kv, 3.3kv; 4160 v, 6kv, 6.6kv; 10kv, 11kv

8

Frequency available

50Hz , 60Hz

The three-phase high-voltage slip ring motor adopts a box structure, and the machine base is welded by steel plates, which is light in weight and good in rigidity.
The high-voltage three-phase slip ring motor is a closed-structure motor with an air-to-air cooler at the top. The stator winding adopts Class F heat-resistant insulating material, and the top binding is reliable, and the vacuum pressure immersion paint makes the motor have good insulation performance and mechanical strength.
The rotor of the high voltage three-phase motor uses a winding structure of a copper conductor. Bearings are available in both rolling and plain bearings, depending on the speed and power of the motor.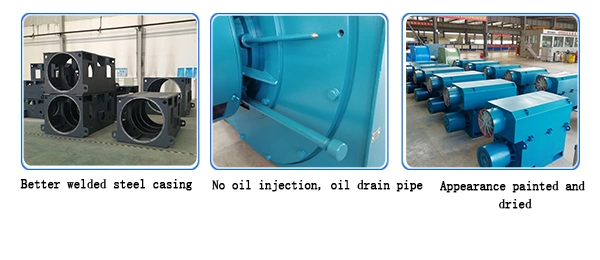 Our company's motor manufacturing factory adheres to the concept of green, efficient and energy-saving production service, pays attention to the harmonious development of internal and external environment, builds environmentally friendly motor manufacturing enterprises, strictly implements motor standard process, and selects high-quality energy-saving materials to ensure the quality of motor products.

The motor products manufactured by our company have obtained the ISO9001 quality management management system certification, passed the CCC/COC, China energy-saving product certification, and passed the certification certificates of CE/UL/IRIS/CAS and other European and American countries. The company strictly improves the quality and efficient motor products and services for users in strict accordance with the requirements of relevant product standards.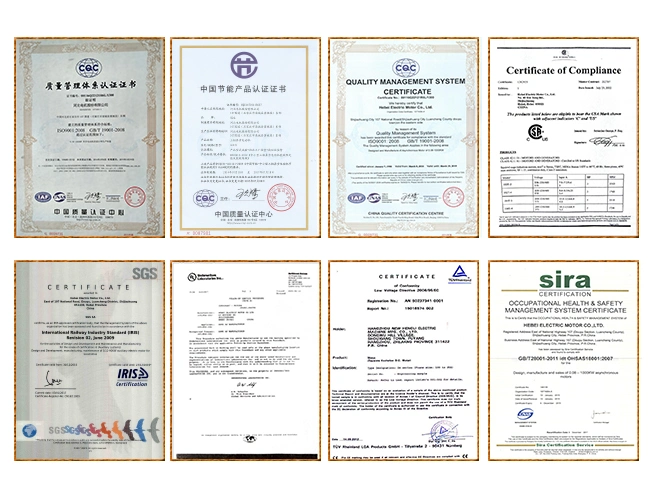 1. The outer packaging of the products are all standard export-oriented wooden plywood packaging.
2, the product packaging is protected by moisture, water plastic soft packaging
3. For products with special transportation requirements (such as temperature, fragile, variability, and easy to get wet), the packaging protection measures will be strengthened, and the target mark will be printed on the package.
4. There are obvious signs and symbols on the packing box that must be paid attention to during transportation and storage (such as position, moisture, rain, shockproof, lifting position, etc.).