Resuable, Ant-Slip, Textured UHMWPE Ground Protection Mat for Excavator/Lifting Truck/Crane
Brief Introduction
XINXING Quick
M
ats
is made with virgin
HDPE
. It
has the light weight, which can
protect your expensive turf and provide access and traction over mud, sand, snow and other difficult surfaces.
Quickmat are perfect for allowing access and gaining traction to construction sites for rubber tracked and typed vehicles from cars, vans, JCB, cranes, HGVs up to 80tons.
It can be
used
to create temporary roadways for all types of vehicles and equipment or large work pads for drilling, administrative compounds, bone yards, temporary flooring, oil drilling rig mats and other industrial application.
For more general purpose situtations QuickMat is perfect. Great for light vehicle and pedestrian walkways, marquee flooring and general protection on grass and muddy areas.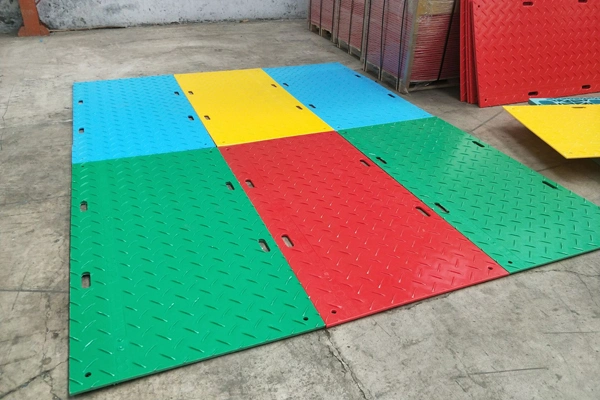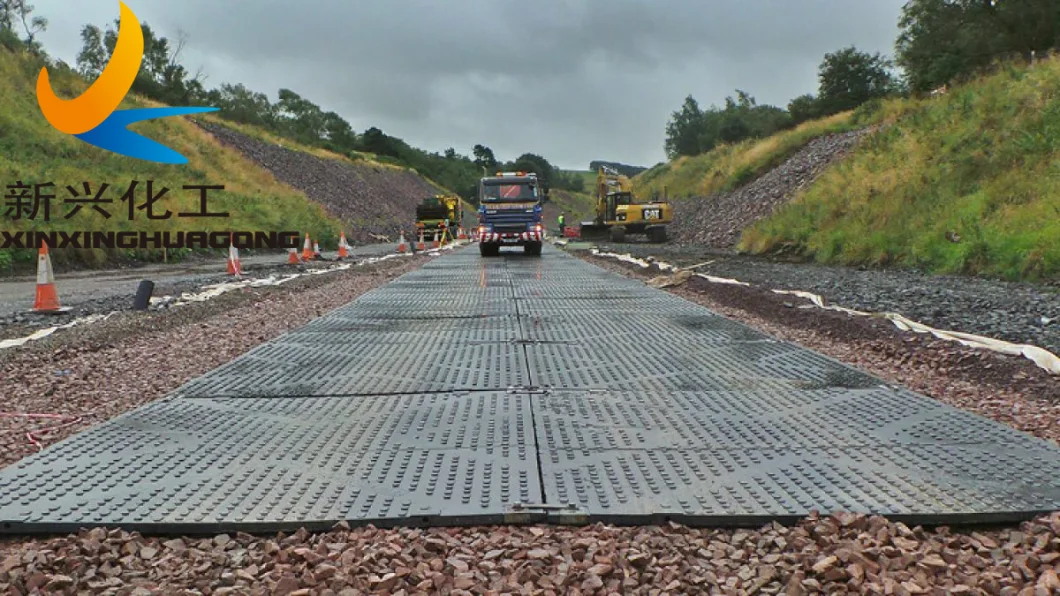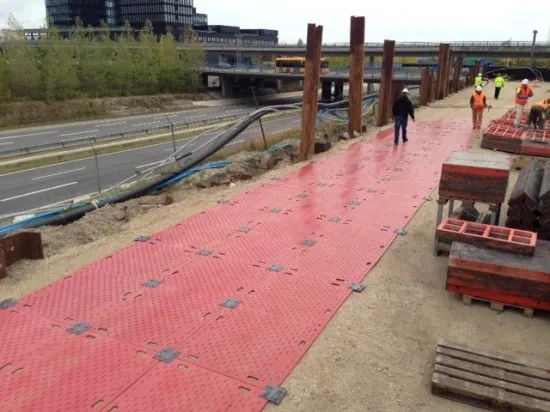 Advantages & Benefits
Quickmats is
durable
,
light weight
, a
nd extremely
strong
. The mats are engineered to provide ground protection and access over soft surface and will provide a
firm support base
and traction for numerous activities.
Such as temporary construction activities, emergency access routes, safety road for maintenance, sports filed maintenance
.
Superior alternative to plywood and fiberglass -
will not warp , rot , crack or delaminate.
Save times
&
labor getting vehicles and equipment traversed over difficult terrain.
Avoid potential injuries
to workers incurred while dislodging vehicles & equipment from excessive wear and damage due to operating on unstable ground conditions.
Easily handled and laid by two men-no need for expensive crane wagons.
Lay as two parallel tracks or a single roadway or others.
Link together with
metal connections.
Easily cleaned due to less aggressive lug pattern.
Extremely durable to withstand vehicle
weights up to 80tons in
static
.
Resistant to extreme
hot
and cold
climate.
Can be used hundreds of times.
100 percent
efficiency of
utilization
.
Specification
Item No.

Size(mm)

Thickness with texture(mm)

Weight(kg)

Effective area(m2)

Loading capacity(ton)

Loading container&calculate

XE01

2400*1200*12.7

22.7

40

2.88

40

320pcs in 20

'

GP




580pcs in 40

'

GP

XE02

2440*1220*12.7

22.7

42

2.98

40

300pcs in 20

'

GP




550pcs in 40

'

GP

XE04

2000*1000*10

20

22.6

2.00

30

590pcs in 20

'

GP




1150pcs in 40

'

GP

XE05

2900*1100*12.7

22.7

45

3.20

40

350pcs in 20

'

GP




580pcs in 40

'

GP

XE06

3000*1500*15

25

74

4.50

80

320pcs in 40

'

GP

Remark:




--Material: Virgin HDPE (high-density polyethlene)




--For wheeled vehicle




--Recommend thickness: 10mm,12.7mm,15mm,18mm,20mm and 25mm




--Colour: white, black, red, yellow, blue, and etc.




--pattern thickness on every side is 5 mm




--

Customer Logo is available




--Other size and colour can be customized
Product Surface Pattern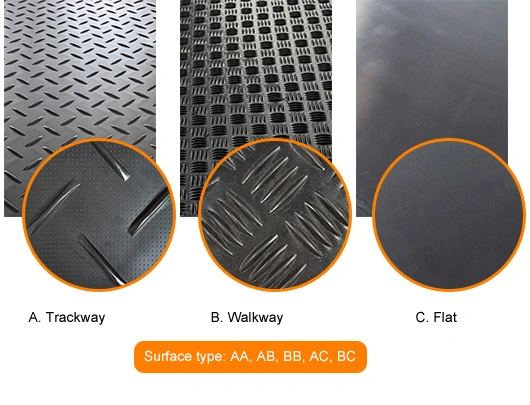 Application of
Quick Mats
- Protect your turf and provide access nearly anywhere
- Temporary flooring
- Stadium ground covering
-Outdoor Events/Shows/Festivals/Stadium/Wedding/Beach Access
- Building site access works
- Construction site, civil engineering and ground work industries
- Emergency access routes
- Golf course and sports field maintenance
- National Parks
- Landscaping
- Utilities and infrastructure maintenance
- Cemeteries
- Temporary roadways and airport&parking
- Military sites
- Caravan parks
- Heritage sites
- Safety road for pedestrian/vehicle/wheel chair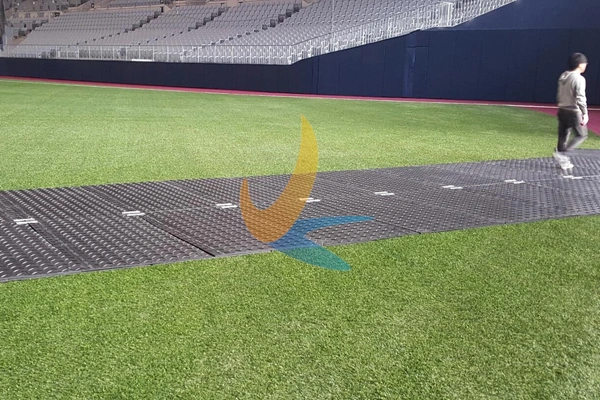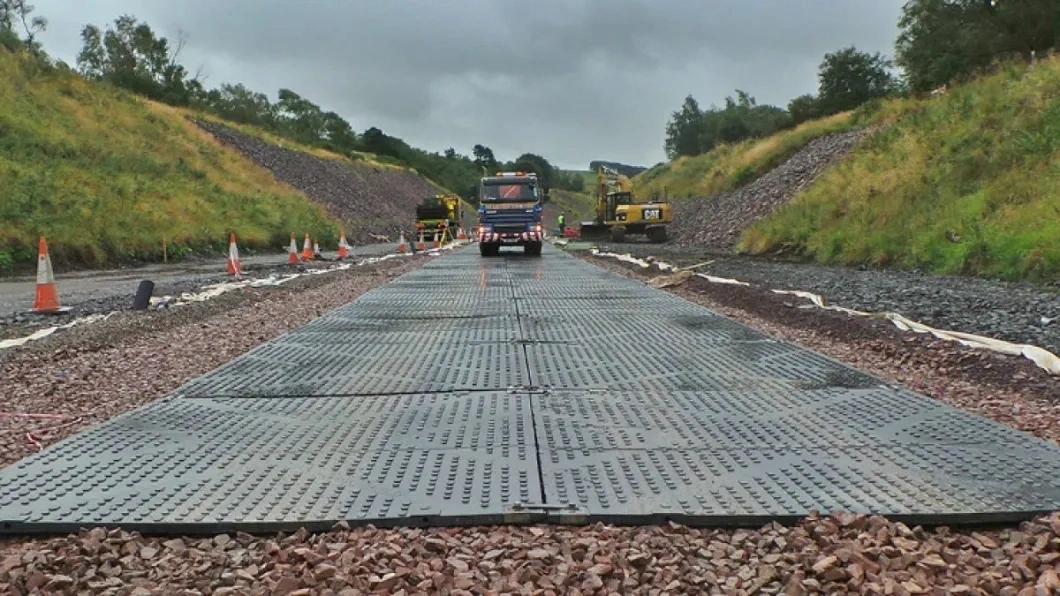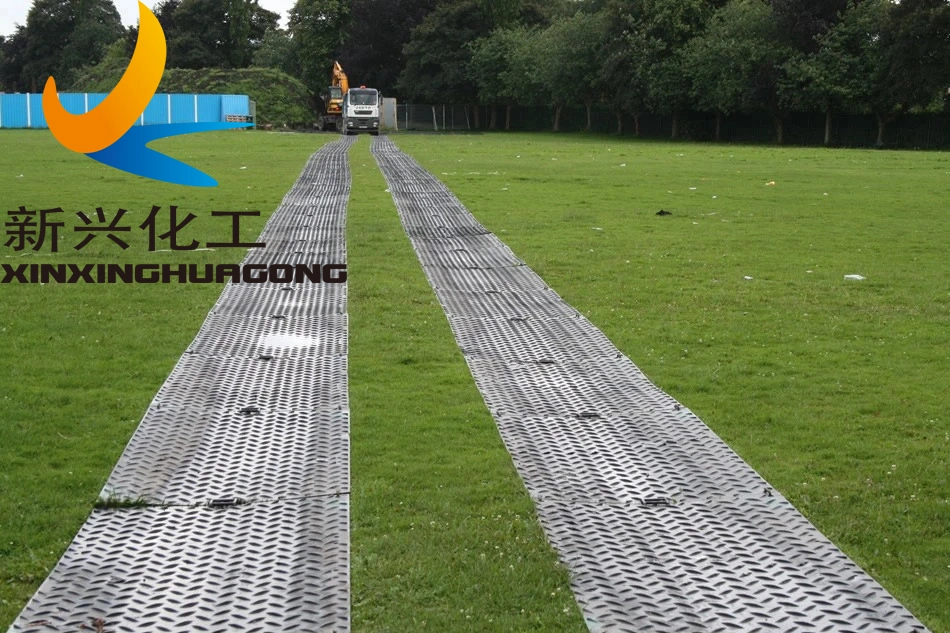 About Shandong Ningjin Xinxing Chemical Co.,Ltd.
With the excellent experience of many years in manufacturing engineering plastics, Xinxing was established in 1989. Now, it becomes the largest and most professional manufacturer of Engineer plastics such as
UHMWPE Sheets
,
ground protection mats, crane outrigger pads, UHMWPE fender pads, wear-resisting liners, HDPE Sheets and parts, PP sheets and parts and other engineer plastics.
Our factory covers an area of 36000 square meters which has 7 big workshops for different products and application. Xinxing is the
only manufacturer
that produces both
extruded and pressed plastic products
in China and represents the most advanced productive forces and highest quality.
Our products are widely exported to many countries
all over the world
such as Indonesia, Malaysia, Korea, Japan, Russia, Germany, India,
England, Italy, South America, Canada, Chile, etc.
Our management creed is
"Quality first, Customer first, Keeping improving".
We are willing to establish a wide and continuous cooperation with enterprises home and abroad.
We sincerely hope to establish business relations with you.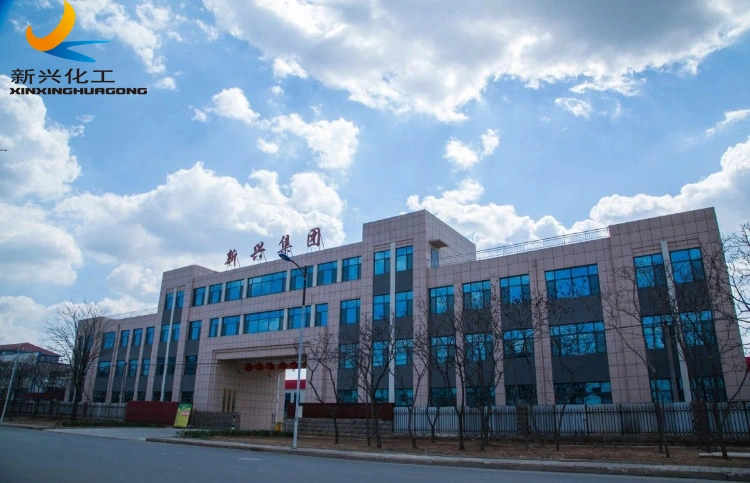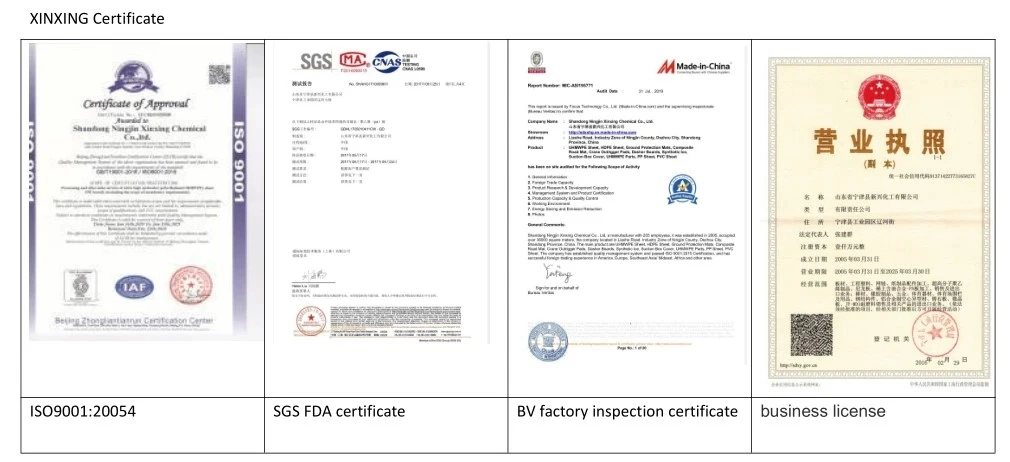 FAQ
Q1. Are you trading company or manufacturer of ground protection mats ?
A1. Yes,of course. We are factory.
Q2. Do you provide sample?
A2. Yes, we could offer sample for free charge. But we are sorry that we do not pay the cost of freight.
Q3. How long is your delivery time?
A3. It mainly is according your quantity. Generally, it is 10 days if
ground protection mats
are in stock. However, it is 15-20 days if
ground protection mats
are not in stock.
Q4. What is your terms of payment?
A4. In summary, payment term is flexible. We accept T/T, L/C, Paypal and other terms. We a should open to dicuss.
Q5. Is there any warranty on the quality of your products?
A5. About this question, please don
'
t worry. We have more than 20 years of experience in producing products widely used in Europe, Russia and other countries.
Q6. What about the after-sales service?
A6
.
You may rest assured that the quality of our products is always
excellent. In addition, we will fix completely if our products have any problems that bring you some trouble.
Q7.
Do you have complete inspection facilities
?
A7. Yes, of course.
We will check the quality of the goods strictly before they are packed.
Q8.
Are the specifications of your products all fixed?
A8. No, w
e can manufacture products of special specifications according to your requirements
.
We sincerely look forward to establishing business relationship with you. Please contact me if you have any other questions. I would like to help you in time.