Factory Sale BWG 12 x 12 Wire Galvanized Barbed Wire for
Military
Fence
Production of barbed wire:
Barbed wire is a kind of modern security fencing materials,Barbed wire can be installed as deterrent to the perimeter intruders with piecing and cutting razor blades mounted at the top of the wall . Galvanized barbed wire offers a great protection against corrosion and oxidation caused by the atmosphere. Its high resistance allows greater spacing between the fencing posts. It used for grass boundary, railway, highway isolation protection.
Common Specification:
Material:galvanized steel wire (Q195)
Gauge: 10#x12#, 12#x12#, 12#x14#, 14#x14#, 14#x16#, 16#x16#, 16#x18#
PVC/PE: before coating: 1.0-3.5mm; after coating: 1.4-4.0mm
Barb length:1.5-3.0cm
Barbed spacing: 3", 4", 5", 6"
Roll Weight:25kg,50kg and so on
Weaving way: Twist, standard
Surface finished: Electro galvanized, Hot dipped galvanized, PVC coated.
Gauge of
Strand and Barb in B.W.G.

Spacing

finish

type

reel length

12x12

3''-6''

inches.

Electro

galvanized,

Hot dipped galvanized,

Pvc painted.

IOWA type ,

High tensile type .

(2pts,4pts with single ,double strands)

200m,250m,400m

500m.

or 10kgs,15kgs,17kgs,20kgs

per roll

Can be customized.

12x14

12-1/2x12-1/2

12-1/2x14

13x13

13x14

13-1/2x14

14x14

14-1/2x14-1/2

15x15

15-1/2x15-1/2
Barbed Wire Types:
According to weaving , there are three types of barbed wire.
Single barbed wire ,
double barbed wire,
traditional barbed wire.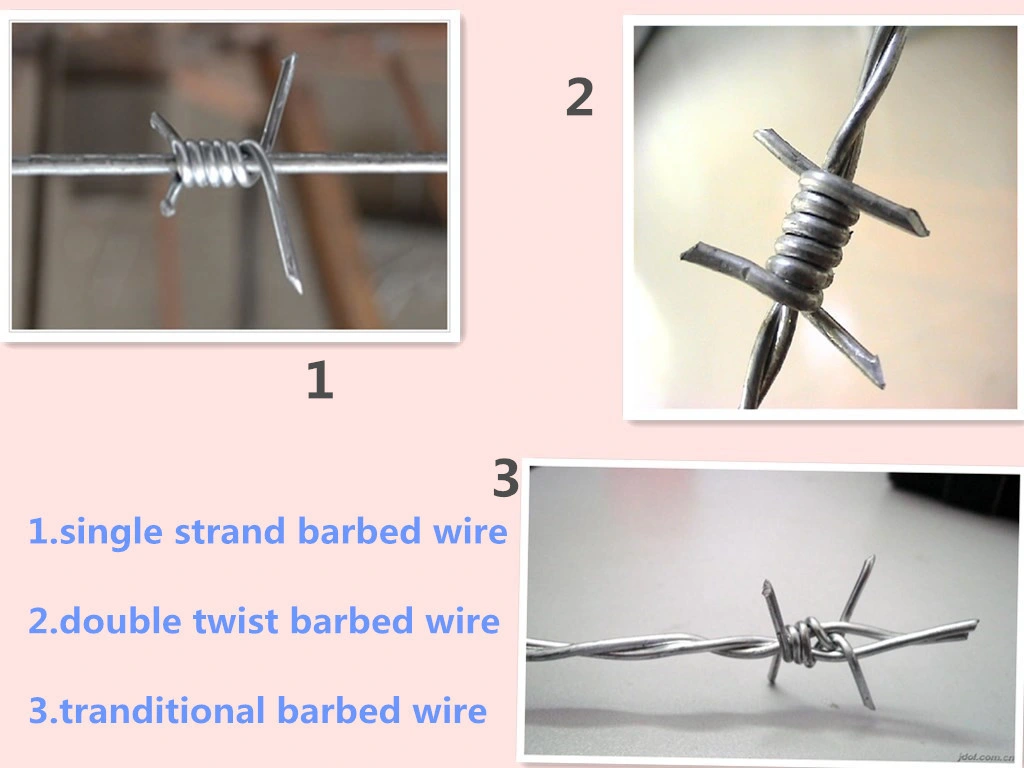 Characteristics:
1. great protection against corrosion,
2. great protection against oxidation,
3. easy fixing,
4. durable,
5. good protection performance,
6.good at the fortifications in trench warfar,
7. high resistance allows greater spacing between the fencing posts.
Applications:
1. the protection net in industry
2.agriculture,animal husbandy,dwelling houses
3.plantation of fencing,grass boudary
4. ranch and livestock farn, detention houses
5.railways and highways